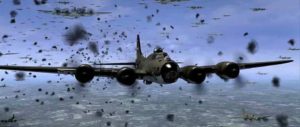 (Excerpt from the book)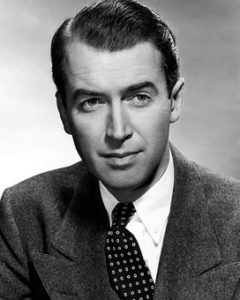 Not long after his 1908 birth in Indiana, Pennsylvania, already nearing the end of its coal-mining prosperity, Jim Stewart knew that he had to fly. Something about the open environment in the sky suited his nature. Inherently reticent and modest as boy and man, a distinct speech pattern of part stutter and part slight pause showed both strength and vulnerability, an unexpected advantage during his years of success in movies.
Soon after the century's first great war ended in 1918, barnstormers and flying circuses offered rides at a flat farm field in town to anyone with $10 for ten minutes or $15 for fifteen minutes. The pilots flew in the war for the Aviation Section of the U.S. Army Signal Corps, and now demonstrated to an eager public a new way of warfare, and, soon, mass transportation. The shows had wing-walkers, stunt parachutists, mid-air wing to wing plane transfers, performers, and the daring pilots themselves who did barrel rolls, breath-taking spins and dives, even top-speed hurtles through open barns, although not always with a safe landing. The Curtiss JN-3 "Jenny" bi-planes they trained-on during the war cost the government $8,100 each, but were eagerly bought by the same pilots, now civilians, for as low as $1,000 each.
Taking time off from flying model airplanes on the roof of the family home, and building crystal radios with cereal boxes and wires, the reliable Jenny became not only the first aircraft that Jim saw, but the first he flew in as a pre-teen rear seat passenger. He saved for the first of four rides from wages earned at J. M. Stewart & Co, the hardware store owned by his father, Alexander. Alex served in both the Spanish-American and the Great War repairing ordnance equipment. Service to country ran in Alex's family. His father, uncle, and father-in-law all fought in close combat for the Union in the Civil War.
In his bedroom Jim mapped every rapturous report describing Charles Lindbergh's historic 1927 solo flight across the Atlantic, never imagining that thirty years later he would be type-cast as the shy and reserved "Slim" Lindbergh in the Spirit of St. Louis. Years later he described the freedom that he found in the air: "It was the ultimate feeling of being in control…and being alone. I've always been a loner…I enjoy being on my own."
DISTANT SOUNDS OF WAR
After graduating from Princeton in 1932, Jim did summer stock with a Cape Cod theatrical company and became close friends with Henry Fonda, another aspiring actor. Along with Fonda and Joshua Logan – to become a celebrated stage and film director – and with periodic residency by actor Burgess Meredith, he rented a small apartment on Manhattan's then scruffy West 63rd Street. By January 30, 1933, the day Hitler became Chancellor, Jim made his professional debut on Broadway in "Goodbye Again," appearing 216 times as a chauffeur, to speak only two forgettable lines. By taking other secondary parts on Broadway he built a solid resume, leading to a 1935 screen test with MGM in New York. Metro signed Jim to a three-month contract at a very respectable $350 per week and he headed for Hollywood, to become established in 1937 in a series of secondary parts in B films.
Also by the end of 1937, a continent and two oceans away from Hollywood, Hitler had fully committed Germany to prepare for all-out war. That year Buchenwald opened, the first concentration camp in Germany. It later became an extermination site for anyone who disagreed with the goals of the Nazi revolution. The captive dissidents included actors, doctors, political prisoners, homosexuals, and, especially, Jews in any profession or occupation. By the end of 1938 Jim had appeared in 18 films, including the breakthrough Frank Capra directed, You Can't Take It With You, which won 2 Oscars with 5 nominations.
In 1939, now an A list screen star, Jim made another Frank Capra film, Mr. Smith Goes to Washington, earning him the New York Film Critics award for Best Actor, with 11 Oscar nominations for the film. Britain's second month of its six-year war of survival with Nazi Germany had scant notice at the movie's October 7, 1939 premiere at Constitution Hall in Washington D.C.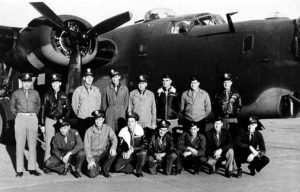 (The book's narrative then describes Jim's continuing success as a movie star, his flying lessons and certification as a commercial pilot, induction into the U.S. Army on March 21, 1941, re-assignment to the Army Air Force, two years training on B-17s and B-24s, passage to England on the Queen Mary, posting to newly opened Tibenham Army Air Force base near Norwich, England (L), leading to his first combat mission as command pilot on December 13, 1943.)
MANY MISSIONS, LITTLE REST, MAJOR LOSSES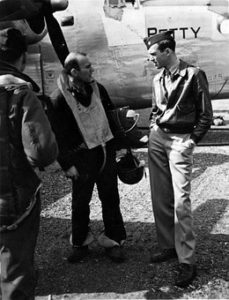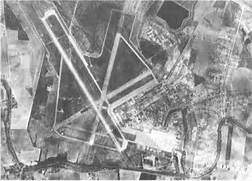 On November 24, 1943, the day the 445th and its four squadrons arrived in Tibenham, the runways Jim and the crew saw from above resembled a triangular 'A' frame, as did most of the scores of Eighth Air Force bases under feverish construction. With three converging concrete runways positioned for the prevailing winds, the main runway, or the bottom of the 'A', extended 6,000 feet, with two intersecting 4,200 ft. auxiliary runways. A 50ft. wide concrete perimeter track with 36 open "frying pan", or at other bases, looping "spectacle" hardstands for two bombers, were dispersed along the perimeter to minimize damage from German attacks.
The 445th settled into their new surroundings for more classroom instruction in tactics and practice missions over East Anglia. They learned how to recognize the difference and locations of the navigational Buncher beacons at each base, and the numbered Splasher beacons along the coast. In a pinch, visual landmarks near Tibenham included an adjacent rail line and the bell tower of the 13th Century All Saints Church near the end of the main runway

Off duty, it didn't take long to learn the easiest route on foot or bicycle, of which there were hundreds on base, to the Greyhound Pub and its two bars and log fireplaces. Since its opening in 1713, the solid brick building, always with an abundance of empty kegs near the entrance, had seen many young men off to war.
On December 13, 1943, three weeks after landing at Tibenham, Jim's 703rd and other squadrons in the 445th BG squeezed on to narrow benches in the Ops shack for a pre-dawn briefing. After overnight servicing and arming by ground crews, trucks stood-by to bring crews to their aircraft. One of four simultaneous "maximum effort" missions this day, it would be the first major attack of the European air war and the first time that over 600 bombers would simultaneously hit multiple targets. As another milestone, it would also be the first mission shared by both B-17s and B-24s. For Captain Jimmy Stewart and the 445th, it would also mark the first time they flew in combat, and it wouldn't be a "milk run."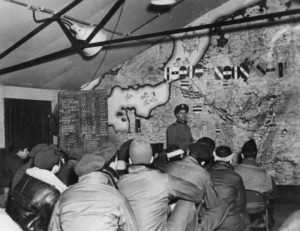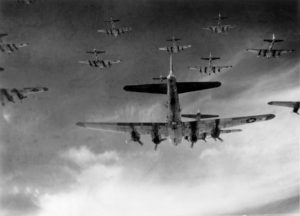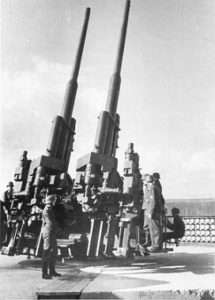 When the curtains opened in the blacked-out ops room, the lines extending from Tibenham on the big map showed that both the P-47 and P-51 fighters, the much appreciated "little friends," would escort the bombers but only as far as the P-47s two internal fuel tanks and the P-51's 255 gallon capacity would allow. The Mustang had longer range, more agility in climb and maneuver and had a streamlined look the Thunderbolt's lacked, but the pilots who flew the heavy "Jugs" preferred their durability in a dogfight.
With 30 seconds between takeoff's and about an hour to form-up, the group flew a twisting S to reach altitude, and then a racetrack pattern to await the others. Then they saw their assigned "Zebra," a garishly decorated B-24, one of several stripped-down bombers serving as assembly points for different groups. After "joining-up" and now a combat wing, they flew as one formation for about 15 miles to the North Sea and across the tip of occupied Holland to cross the northern top of Germany. Some of the groups would hit the port of Bremen, while others, including Stewart's 445th, would bomb the Howaldtswerke-Deutsche Werft (HDW) shipyard, and U-boat works and their pen shelters in Kiel. The U-Boat factories, bases, and aircraft assembly plants were the most heavily defended in the Reich and everyone knew it. Early in the war Hitler had correctly concluded that only by severing the convoy lifeline connecting Britain and North America, would he have any chance of winning the war. U-boats were essential to that goal.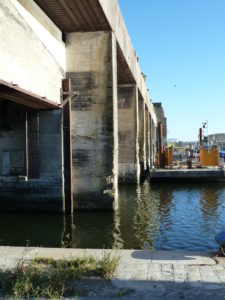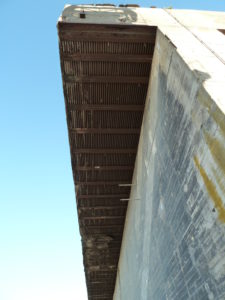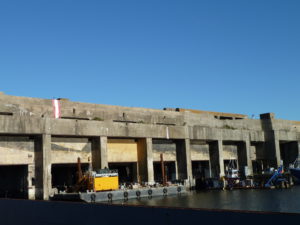 With ten 500-pound general-purpose bombs racked on each Liberator for the long-range missions, the crews could only guess why the U-boat bases remained undamaged mission after mission, although from 25,000 feet they could see for themselves the lack of results even from direct hits. They couldn't know that a kinetic weight of only 500 pounds exploding against the multi-layered reinforced concrete roofs of the U-boat armored shelters, had an effect akin to fragments being chipped from a pottery container. (Author photos present-day former Lorient, France U-boat base)
(The chapter narrative continues with a description of Jim Stewart's missions, the horrifying losses of up to 88% returning from a mission, and Jim's post-war resumption of his "wonderful life." Rising 11 ranks from Private to Brigadier General after the war, James Maitland, "Jimmy" Stewart, movie star and war hero played his greatest role in the defense of his country.)
Return for additional periodic insertions of chapters from THE HIDDEN PLACES OF WORLD WAR II, to be published by Lyons Press, an imprint of Rowman & Littlefield Publishing Group in March 2019, in recognition of the 75th anniversary of the end of the war in 2020.