THE HIDDEN PLACES OF WORLD WAR II  Available on Amazon and at booksellers including Barnes & Noble in hard-bound and Kindle.  RECENT REVIEWS: MIDWEST BOOK REVIEW (Established in 1976, the authoritative publisher produces nine monthly magazines focusing on university, college, and academic library organizations.  Of 1,500 books submitted monthly, only a handful are selected to be reviewed.  THE HIDDEN PLACES OF WORLD WAR was one of them. "An extraordinary and impressively documented history that could well serve as a kind of travel guide for World War II history buffs…a unique and unreservedly recommended addition to personal, community, college, and university libraries, World War II military history collections, and supplemental studies reading lists." THE TIMES USA  "Eight decades after the launch of WW II, a new book journeys us to places few have seen.  (It) opens the eyes of both a new and older generation of readers in revealing the actual locations that changed history."  NATIONAL ASSOCIATION OF DESTROYER VETERANS/TIN CAN SAILORS  "It is seldom that a book on history excites readers other than those of us who are historians…O'Connor imparts that depth of feeling to the places where the operations were planned and the fate of the world was determined.  It is both a pleasure to read and is a wealth of things you will be happy to have learned.  It's a book you will want to read." Terry Miller, Editor. AMAZON: 4.8/5.O "A remarkable work of history that reads like a novel." "I am a Holocaust researcher and WW II buff…excellent, informative and written in a very interesting way."
CONTACT THE AUTHOR USING THE FORM FOR BOOK READINGS AT YOUR LOCALE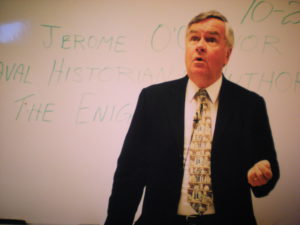 JEROME O'CONNOR WAS NAMED THE US NAVAL INSTITUTE "AUTHOR OF THE YEAR"SPECIAL THE AUTHOR WILL DISCUSS THE BOOK INCLUDING READINGS AND IMAGES AT MOORINGS COUNTRY CLUB, NAPLES FL. ON FEBRUARY 10, 2020. SPONSORED BY COLLIER FRIENDS OF THE LIBRARY, THE EVENT HAS BEEN SOLD OUT AT 150 REGISTRANTS SINCE SEPTEMBER 2019
Since 1965, award-winning, internationally published features describing the vital but overlooked people, places, and significant events of the 20th Century.  Enter the same history-changing locales as they appeared then and as they are now.
Every locale is personally visited, extensively researched, and fully documented with photos from the era contrasted with present-day images.  These include prior world exclusives that were the first to reveal Winston Churchill's wartime Cabinet War Rooms, Bletchley Park, where the German Enigma cypher was broken, and Trent Park, the London mansion where the casual conversations of 59 Nazi generals were secretly recorded.  Disclosures from recordings made from the hidden microphones located throughout the vast estate, were translated into English, evaluated, and then sent to Allied commands.  Visit the same indestructible U-Boat bases in France, appearing almost as they were when surviving hundreds of USAAF and RAF bombing.  Learn how the intricately designed  seven-layered roofs prevented penetrating damage.  Other locales connecting WW II with the present are part of O'Connor's 22-chapter book THE HIDDEN PLACES OF WORLD WAR II.
As the 75th anniversary of the end of the war approaches, major parts of the book honors those who  preserved freedom in its darkest hour and brings readers to the same places where history-changing events took place, but which were ignored or never-known by other historians.  The 360 – page hard-cover book is available on Amazon and Barnes & Noble web sites, and at bookstores.
The author, a Chicago-based educator and dynamic program presenter, is available for 60-90 minute image-based presentations about the original features appearing on this site.  In 2001, Jerome O'Connor was named the U. S. Naval Institute's Author of the Year "for his significant literary contributions to the history of WW II".
Group tours are available for the Chicago locales described. Complete the contact form for information and availability.
History Articles
"THE HIDDEN PLACES OF WORLD WAR II" CONTENTS SUMMARY
AIR FORCE PILOT, HERO AND MOVIE STAR - JIMMY STEWART AND THE NEED TO FLY
LAUNCHING THE INVASION - SOUTHWICK HOUSE AND D-DAY - FIRST LOOK AT THE BOOK
"THE HIDDEN PLACES OF WORLD WAR II" PUBLISHED. ORDER ON AMAZON and BARNES & NOBLE
BOULEVARD OF BROKEN DREAMS - THE GRAND PLAN FOR THE MIDWAY AFTER THE 1893 CHICAGO WORLD'S FAIR
THE I & M CANAL AND THE ORIGINS OF CHICAGO
LOUIS SULLIVAN AND THE ART OF ARCHITECTURE
BLETCHLEY PARK, ALAN TURING AND ENIGMA - UPDATE AND NEW DETAILS
WORLD WAR ONE REVISITED - CLASSES IN CHICAGO AREA NOW
FORMER B-29 ENGINE FACTORY TOUR NOW AVAILABLE
ARSENAL OF DEMOCRACY - HOW THE HOME FRONT MOBILIZED TO DEFEAT THE AXIS
MOTOR ROW MEMORIES - THE ONLY AREA IN CHICAGO TO BUY A CAR AT THE DAWN OF THE AUTOMOBILE ERA
TRENT PARK TATTLETALES - THE LONDON MANSION WHERE 63 NAZI GENERALS LIVED IN LUXURY
INSIDE FRANK GEHRY'S BEDOUIN TENT - THE PREMIER ARCHITECT OF THE DIGITAL AGE
WESTERN APPROACHES COMMAND - LIVERPOOL'S UNKNOWN UNDERGROUND COMPLEX THAT CONTROLLED WARTIME CONVOYS
CHURCHILL'S CABINET WAR ROOMS - WORLD EXCLUSIVE REVEALED IN 1978
U BOAT SANCTUARY - INSIDE THE INDESTRUCTIBLE U BOAT BASES IN BRITTANY
FDR'S SECRET MISSION TO SINGAPORE - THE US NAVY NEARED COMBAT WEEKS BEFORE PEARL HARBOR
SOUTHWICK HOUSE - WHERE IKE LAUNCHED THE D-DAY INVASION - THEN AND NOW
UNDECLARED WAR - HOW FDR VIOLATED THE NEUTRALITY ACT TO SAVE BRITAIN FROM DEFEAT
BLETCHLEY PARK AND ALAN TURING - BRITAIN'S MOST IMPORTANT WARTIME SECRET
FATEFUL ORDERS - HOW 3 US OCEAN LINERS CARRIED 20,000 BRITISH TROOPS TO WAR
GHOST SHIPS - THE UNKNOWN PRE-WAR US NAVY GLOBE-CIRCLING VOYAGE
Top-Secret ULTRA
Alan Turing - Enigma
Churchill Cabinet War Rooms